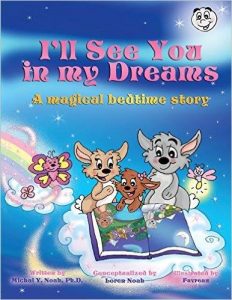 Behind every young child who believes in himself is a parent who believed first.
The story is an example of good, responsible parenting in which Michal Y. Noah addresses a real problem faced by children – fear of bad dreams and consequently, the unwillingness to stay in bed alone at night.
Based on her personal experience, Noah relates through simple, easy-to-recite poems, how a parent can sensitively and compassionately deal with a child's fears. With some imagination, insight, and good communication, we can transform a potentially distressful situation into a joyful family experience.
This magical bedtime story is about Hoppy the Bunny who is uncomfortable sleeping by herself at night; she insists that her parents stay by her side all night.
Hoppy's mom comes up with an idea that they ought to plan to meet each other in their dream. Hoppy loves this and quickly takes charge of her emotions. She learns to use her own intrinsic power, the power of her own imagination. Every night, Hoppy and her mom plan a new magical dream and before long, bedtime becomes funtime.
Once Hoppy learns that she has a tremendous creative power inside of her, she feels excited, empowered, and more in control. The family comes together in Hoppy's dreams and they visit beautiful places, meet exciting creatures, and enjoy magical experiences. Hoppy begins to look forward to bedtime to plan new adventures.
Save
Save
Save