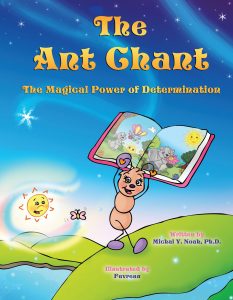 In this book, The Ant Chant, the author Michal Noah has created a tale about a wise little Ant who never gives up, amply demonstrating the truth about how the power of determination and having a cheerful attitude can help us achieve our goals, even in the face of challenges.
The little Ant has much to do, but she joyfully sings and chants as she goes about her work. She is dedicated and hardworking and determined to reach her goal, come what may. She deals very beautifully with the obstacles that come her way, never losing focus, always reminding herself that she can do anything she wants.
This story is an example of how positive self-talk and can influence and have a constructive impact on our lives.