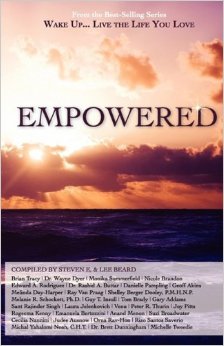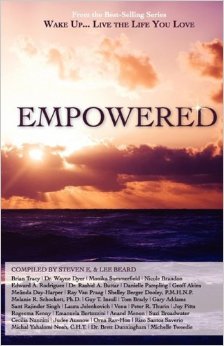 Wake Up – Live the Life You Love #1 Bestseller for Self Help at Barnes & Noble!
One of the most rewarding things I have done, has been having the opportunity to be a co-author for this amazing book, now a series of books. If you are looking for inspiration, motivation and answers in your life the gems in this book will provide what you need.
Wake Up – Live the Life You Love is the brain child of Steven E, along with Lee Beard, Dr Wayne Dyer, Brian Tracy, John Assaraf and Gregory Scott Reid. Over 50 inspirational authors, mentors, entrepreneurs and professional leaders have joined this team to produce a book (now a series of books) that can make the difference of a lifetime. These inspirational authors have gathered from around the globe to share with you their life changing and affirming messages.
Steven E was struck by the passion to create a meaningful book that would guide and lead people to a better way of thinking, a positive way of living and a road to personal enlightenment and success. Rather than try to produce some overnight wonder that would then sit unread on shelves he had the wonderful idea of producing a book with multiple authors. This was a stroke of genius, and perhaps also gives a hint of the underlying principles behind true success and happiness. By bringing together the thoughts and experiences of so many authors the threads of permission, authority and confidence run together to show the way to true personal power.
The stories included in the book give a message of hope and encouragement for all readers. This book will encourage you to never give up, but to keep on going. It doesn't stop there though. Throughout the book you will find stories that light the way to personal empowerment. These are messages and teachings that can change your life for the better forever.
This book shows and teaches steps towards a new view of a much better world. While the stories are inspirational they are also practical. These are not just other people's success stories but rather a complete guideline, a compass if you will, that will lead you to personal power.
You will be shown how to attract the positive things in life to you. It will show you the keys to financial and personal success – how you too can have the things you want in life, from relationships to money. It will help you decide just what those things are for you personally and how to go about getting them. Genuine passion and purpose in life are the keys to real and sustained satisfaction and inner peace and happiness for all of us.
This is a book of transformation, of positive personal positive development and genuine life transformation. While I have been involved in writing this book myself I have also been profoundly touched and inspired by the other authors who have also contributed. This is an amazing book that you simply should not overlook if you want to improve your life. If you read no other books on personal development and empowerment, be sure you don't miss this one. It is readily available online and will change your life forever.
Save